Transportation Posters & Puzzles
Posters, picture talks, photos and puzzles.
Transportation Borders and Backgrounds
Borders, backgounds, frames, patterns for cutting and collage work
Transportation Creative Coloring
Transportation Numbers and Logic
Sets, counting, numerical order, number recognition, order by size, shapes, patterning, dot to dots, categorizing
Transportation Letters and Literacy
Alphabet, letter recognition, letter sounds, vocabulary, sight words, oral expression, story telling, comprehension, word walls, rhyming, conversations
Transportation Matching Activities
Lotto, concentration games, color recognition
Transportation Songs and Rhymes
Activity pages for songs and rhymes.
Tracing, mazes, playdoh mats, small muscle development
Transportation Large Manipulatives
Print on cardstock, cut out for matching games, hiding and finding, storytelling, vocabulary extension etc.
Transportation Science and Social Studies
Science and social studies activities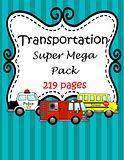 This is a HUGE mega pack of centers to make, and printables for a general Transportation theme - 219 pages - free to members in membership area. Or go here to purchase it.
25 3-piece puzzles with a transportation theme. Bright primary colors for easier color and shape visual discrimination for early learners. Includes city and construction vehicles, road signs and a referral page