Create the "spark", and learning happens.
Interest, motivation, curiosity, engagement, attention, connection - whatever you want to call it - there HAS to be a spark to transform the mind from "not here" to "here". From unfocused, to laser sharp. From "don't want to", to WOW!
You will find lots of ways to create the spark here at KidSparkz.com
Thousands of FREE curriculum pages and preschool activities to download instantly. Now over 10,000 downloadable, printable .pdf pages of activities available in this site, and in the Resource Room.
Start with these ideas:
The KidSparkz approach to planning curriculum in early childhood education: How does it help you as teachers and parents, and the children as learners?
Check out the new collection of Animal Facts Booklets - 12 pages each of age-appropriate facts, photos and activities - more to be added throughout the year - perfect to complement your related theme units, or to present when an emergent interest arises.
52 Games and Activities to Make Learning Letters and Sounds Fun!
Lots more free activity pages in the grids below.
What's new? - find recently added and updated pages and activities
4 ways to use the resources at KidSparkz.com…
Compare the various Curriculum Collections HERE.
Comprehensive Toddler Curriculum for the Year
(18 through 36 months)
A comprehensive

developmentally appropriate learning program for children aged 18 months through 36 months, and their teachers, caregivers, and parents - over 1600 pages!

62 separate themes that are intrinsically interesting to young children. Each theme consists of a set of written activities, and linked games, pictures and photos that can be accessed by the click of a mouse. Hover the mouse over the written activities to find links to related games and printables.

Each theme contains between 18 and 45 pages. The linked printables are not worksheets – they are hands-on games and learning activities that you print and make, to use with the children.

For each theme, there are activities for Creative Art; Songs and Finger Plays; Language and Early Literacy; Number and Logical Thinking; Science and Nature; Sensory Discrimination; and Physical Development. There is also a list of quality books (available at a library), and a theme poster for each theme. There are enough activities to last for at least a year, they can be repeated any number of times, and can be used with older preschool children, or those with special needs.

4 sets of age appropriate teaching posters for Letters, Numbers, Colors and Shapes

Simply written and easy to use, with little or no preparation time, using only supplies and equipment found in a normal home or classroom, plus a short list of creative art and activity supplies.

The Curriculum is created in Adobe PDF file format, and is sent to you as a digital download link, OR recorded on a CD and mailed to you. All pages in the curriculum can be printed and used as many times as needed, for any number of children. Works with both PC and Mac computers
Grab and Go Themes

- This is the solution for teachers who need their theme materials NOW, who don't have the time to browse for activities and games throughout the site. Many of the KidSparkz theme printables are in these theme packs, all in one place, a few from the free pages, and most from the Resource Room.
Check out our June Curriculum -258 pages of daily preschool activities for ages 3-6, and co-ordinating printables.

The themes for June are:

Birds

Rainforests

All Kinds of Food

Why and What we Eat

Food Production

Fruit

Vegetables

Fathers Day

The The June Curriculum has been extensively updated for 2013, with 70 more printable activity pages added.

If you purchased the KidSparkz Preschool Curriculum for the Year within the last month (April/May 2013) email me with your order number to receive the link for the updated June Curriculum.

Planning ahead? Take a look at the Summer Activities Curriculum - 181 pages of daily activities and co-ordinating printables in a summer day-camp style.

The daily themes for Summer are:The

Recommended...

| | |
| --- | --- |
| CATS THEME PACK - 106 pages of in-depth activity ideas, games and creative work sheets, in Adobe PDF format. All activity printables you need to present a Cats/Pets theme/topic/ unit to preschool, Pre-K and Kindergarten age children. | SUNNY DAYSSkillbuilder- 123 colorful hands-on activity pages absolutely PACKED with basic skill building activities (letters, numbers, colors, shapes, cutting, emergent reading and more) that kids will love to do. (This file is free for Resource Room members) |
Our HUGE KidSparkz Curriculum Collection contains over 11,500 pages and EVERYTHING that is currently for purchase on this site - all curriculums, skillbuilders, activity pages, provider helps PLUS MUCH MORE... This is the big one - you want this collection if you would like it all! (Also includes all the files in the Preschool Curriculum for the Year, and the Toddler Curriculum for the Year).

Currently on sale at 50% discount!!

This is our most popular collection - comprehensive curriculum for months September through June, plus Summer, plus Alphabet, plus Number, plus tons of activity pages - over 2200 pages ....
(ages 2.6 through 5+ years old)
You will receive the link to download this product INSTANTLY, immediately after your payment is received.
Everything you need for a creative learning program: over 2100 pages; 10 full months plus a summer program. Each daily plan contains themed and developmentally appropriate suggestions for Creative Art, Discovery and Exploration, Group (or individual) Discussion, Story, Games, Music, and a specific Spark! activity to focus curiosity and interest.Each monthly set of lesson plans includes between 120 and 200 activity pages.

Save valuable prep time: use the clickable calendar for each month INSTANTLY linking to daily lesson plans and coordinating activity pages

the original activity pages are creative and challenging, and can be used in different ways depending on the needs and creativity of the teacher. They are NOT just for "coloring"!!!

Includes a collection of

over 100 teaching charts and posters for letters, numbers, shapes and colors

Includes a collection of

hands-on learning games - letters, opposites, rhymes, go-togethers etc

in Adobe PDF format - print as many pages as you want at any time

it is not necessary to follow the suggested themed monthly plan - use whatever activities or printables that suit your particular situation -

print only what you need
Childcare providers love this program, because they have an instant, professionally designed learning program for their mixed age group, and they can show the parents that the children are not "just playing" all day

Preschool teachers love this program, because they can use it "as is", or use it as an inspiration to add to their own personally designed classroom program, whether child-initiated, Project Approach, or Head Start focused. All National Standards are addressed.

Parents working with their children at home love this program, since they do not have to have an ECE educational background to use it. Everything is described simply and clearly, step by step, and learning happens!!!!
***2 extra files have now been added to this collection - Teach the Alphabet (375pgs) and Numbers 1-10 Curriculum (270 pgs)!!
Free Activity Pages organized according to Theme
The KidSparkz Theme-a-Pedia
Most titles are in alphabetical order, but there are a few at the bottom that were added later.
Just a reminder (although I'm sure you don't need it) - even though these activity pages are free for you to use in your learning environment, they are still copyrighted, and may not be redistributed by any means, including posting them to other websites and discussion boards. Please pass along the name of this site, so others can access the free activities.
Activity Pages organized according to Learning Focus
Our mission here at KidSparkz.com is to provide a central, content-rich resource to support teachers, childcare providers, and parents of young children. We offer a full spectrum of free and low-cost preschool curriculum, lesson plans, activity pages, free printables and guides to use for and in the education of young children ages 2 to 6+, specifically for preschool, pre-K, and Kindergarten ages. If you don't see what you need here already, you will see it soon. Educational tools and resources are added often.
Free instant download: Number_train.pdf 1-20 Use for floor games,wall border etc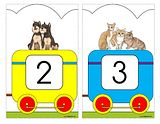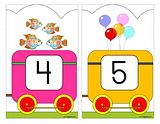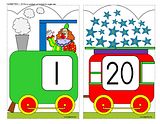 There's an alphabet train, too!
If you have a preschool/daycare oriented site, and would like to exchange links, please write to us using the email form on the About Us page. Also, use the form if you have any questions or comments about the site. We would love to hear from you.
Click on these logos to find lots more great sites about teaching and caring for young children...
The illustrations are true to life, rather than cartoons, to give the children a true perspective of the world around them.
BOOKMARK KidSparkz Preschool Resources so that you can come back to find new preschool and Pre-K curriculum, FREE printables, preschool activity pages, lesson plans, theme programs, alphabets, and home daycare provider information.
All major credit cards and Paypal are accepted.
What's new? - find recently added pages and activities
KidSparkz Sitemap
| | | | | | | |
| --- | --- | --- | --- | --- | --- | --- |
| Main Categories | Popular Themes | Popular Themes | Popular Themes | Popular Themes | Popular Activities | Customer Service |
| | | | | Rocks | | |
If you would like to receive an email whenever we add NEW printables, manipulatives and other teaching tools to the site, please fill in your email address, read the Privacy Policy and click send.
You will receive a confirmation email - just click on the link given in the email and you're set. You can unsubscribe at any time.
This is a BIG site. Use this form to find whatever you are looking for on the KidSparkz site. For example, if you are looking for cut and paste activities, type in "cut and paste" and click "search" to find many more cut and paste printables beyond the main KidSparkz Cut and Paste theme page.
Search the KidSparkz website for:
Copyright 2006-2013 KidSparkz.com