Create the "spark", and learning happens.
Interest, motivation, curiosity, engagement, attention, connection - whatever you want to call it - there HAS to be a spark to transform the mind from "not here" to "here". From unfocused, to laser sharp. From "don't want to", to WOW!
4 ways to use the resources at KidSparkz.com…
Start with these ideas:
Summer Beach Shells Vacations Camping July 4th Oceans
Thousands of FREE curriculum pages and preschool activities to download instantly. Now over 20,000 downloadable, printable .pdf pages of activities available in this site, and in the Membership Now over 20,000 downloadable, printable .pdf pages of activities available in this site, and in the Membership Area.
INSECTS COUNTING This is a set of insects, numbered 0-20 .Insects included are: ant, cicada, ladybug, rhinoceros beetle, grasshopper, bee, mosquito, cricket, dragonfly and butterfly.Use for number sequencing, number matching (print 2 copies), insect matching , vocabulary and recognition. Free.

Three Summer-themed tracing and counting pages. Count the sets, recognize and trace the numbers, add extra details (crabs, a cherry for each ice cream?) and color if desired Free.


Super Summer Bundle
This is a large zip file collection of 12 Summer-related products currently available separately in the KidSparkz store. The price is significantly discounted. Many literacy and math centers for preschool, PreK and Kindergarten ages are included, as well as individual activities and printables.
Take a look at the September Curriculum - a huge 260 pages of daily activities and co-ordinating printables.

The themes for September are:

I am Special

Feelings and Emotions

Our Hands

Our Five Senses

Health and Nutrition

I Can Do It!

Considering Others

First day of School

SCHOOL TIME Prep Pack for Preschool -127 pages $7 This is a comprehensive set of printables with a school. or a back to school theme - make hands-on, interactive activities and learning games for your preschool and pre-K classroom. This resource is free for members in the Membership Area
FREE Activity Pages organized according to Theme P
FREE Activity Pages organized according to T Our mission here at KidSparkz.com is to provide a central, content-rich resource to support teachers, childcare providers, and parents of young children. We offer a full spectrum of free and low-cost preschool curriculum, lesson plans, activity pages, free printables and guides to use for and in the education of young children ages 2 to 6+, specifically for preschool, pre-K, and Kindergarten ages. If you don't see what you need here already, you will see it soon. Educational tools and resources are added often.
Free instant download: Number_train.pdf 1-20 Use for floor games,wall border etc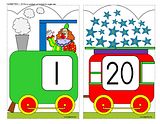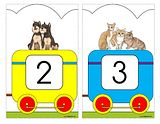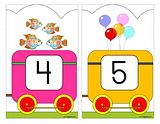 There's an alphabet train, too!